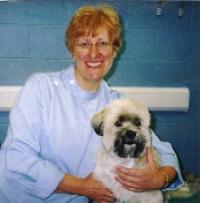 Veterinary Dermatology Referrals
Janet D Littlewood


MA PhD BVSc(Hons) DVR DVD MRCVS
RCVS Recognised Specialist in Veterinary Dermatology


Janet Littlewood graduated from the Bristol Veterinary School in 1977 and then completed an Internship at the University of Pennsylvania. After a couple of years in general practice she joined the Cambridge Veterinary School as small animal Assistant Physician and subsequently was awarded a doctorate in 1988. For 12 years she was Head of the Dermatology Unit at the Animal Health Trust, Newmarket, with clinical and research interests in both small animal and equine dermatology.

Janet has over 30 years' experience in referral veterinary dermatology, built on a sound foundation of training and interest in general internal medicine. She holds the RCVS Diploma in Veterinary Dermatology and has RCVS Recognised Specialist Status. She has over 50 publications in peer-reviewed journals as well as contributions to textbooks as both author and co-editor. She is internationally recognised in her field, particularly for her work in equine dermatology, being an invited speaker at European Society of Veterinary Dermatology Congresses and Workshops, the 4th World Veterinary Dermatology Congress in San Francisco and the North American Veterinary Conference. She is a regular speaker at regional meetings and on continuing education programmes, renowned for her enthusiasm for her subject.

Dr Littlewood has now established an independent clinical referral dermatology service. She is available for consultations in all aspects of canine and feline dermatology at host clinics in Cambridgeshire and mid-Suffolk:
Cromwell Veterinary Hospital
36 St John's Street, Huntingdon, Cambridgeshire, PE29 3DG
Call: 01954 715161
Map
Cromwell Veterinary Surgery
4 High Street, Great Cambourne, Cambridgeshire, CB23 6BJ
Call: 01954 715161
Map
Cedarwood Veterinary Practice
Combs House, Stowmarket Business Park, Needham Road, Stowmarket, Suffolk, IP14 2AH
Call: 01449 676966
Map
Village Vet / Vet24 − Whittlesford Surgery
39 Station Road West, Whittlesford, Cambridge, CB22 4NL
Call: 01223 833651
Map
Byre Veterinary Referrals
32 Papyrus Road, Werrington, Peterborough, PE4 5BH
Call: 01733 325007
Map
and equine dermatology at the following practice:
She is also available for case advice for both veterinarians and pet owners via the Virtual Vet Derms website at www.virtualvetderms.com.
Dr Janet D Littlewood
Veterinary Dermatology Referrals
2 Waterbeach Road
Landbeach, Cambridge
CB25 9FA
Tel: 01223 441539
Fax: 0870 138 0824
e-mail: janet.littlewood@vetdermdoc.co.uk